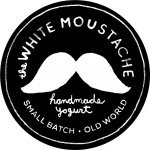 Website The White Moustache
Small Batch. Old World. Handmade.
Director of Operations
Salary Range: $101,000 – $111,000
Benefits: Health and Dental
Location: Red Hook, Brooklyn
The White Moustache is a Brooklyn-based, small batch creator of handmade yogurt. We're looking for an endlessly resourceful person (Operations Director for shorthand) to help figure out the next steps of this business we have built. We're a small team where every voice and personality matters. The skills and experience you bring are important. So too is your personality—the joys, the sorrows, the quirks, the grudges, all the spices—we want all of it since you will become an integral thread in the fabric that will be White Moustache's future.
This is the first executive level hire White Moustache is making. White Moustache has had a very clear vision on how it has existed to date—we have been stubbornly true to our immigrant origins, we celebrate inclusivity, we prioritize ingredients and people over profits, painfully meticulous in our craft—but out of a sense of hospitality and generosity for every customer. Your job is to come in and help us think about how to grow this wildly successful cult favorite into a true long lasting brand and to provide it with the financial health it needs to thrive.
JOB OVERVIEW
White Moustache is seeking a Director of Operations to build and grow a team passionate about making the best yogurt in the world. The Director of Operations will lead the management and oversight of production, business planning, and supply roadmap. Reports directly to Founder.
Lead, inspire, and develop a small business.

Work with executive team to move into a larger facility.
Establish the operational infrastructure of systems, processes, and personnel designed to accommodate the growth objectives of the company.
Focus on artisanal scaling production of company's product lines.
Oversee preparation of business reviews that highlight key risks, opportunities, and proposed action steps.

Develop management reporting and commentary to provide timely insights into trends, operational results and growth drivers
Manage vendor and supplier relationships.
QUALIFICATIONS
Bachelor's Degree; Advanced degree preferred

Ideally operational experience in the consumer products industry.

Ability to be proactive, independent, efficient and resourceful in a hands-on fluid environment
Outstanding leadership and project management skills
Strong analytical and problem-solving skills
Excellent communication, listening and interpersonal skills; ability to build relationships at all levels
Passion for high-quality food