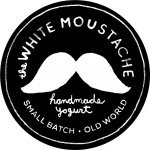 Website The White Moustache
Small Batch. Old World. Handmade.
Production Manager
Salary: $65,000 – $70,000
Benefits: Health and Dental
Location: Red Hook, Brooklyn
The White Moustache, a small batch creator of handmade yogurt, is currently looking for a resourceful manager to keep our factory humming.
The Factory Manager is responsible for – and provides oversight of – the overall operations of our Brooklyn factory. Among other responsibilities, this includes maintaining the entirety of our facility, managing staff schedules, tracking what comes in and out of our building and ensuring that we're compliant with all FSMA and FDA requirements.
Most importantly, you'll ensure that our team has a safe, secure and well-provisioned work environment so that they can continue making what The Los Angeles Times and Vogue Magazine called "the best yogurt in America."
Roles and Responsibilities
Your mission is to take care of our team of yogurt makers with the same care and dedication that they take with our products. Broad categories you'll oversee to do so include:
Staff Scheduling: You'll manage our production team's schedules, finding replacements if and when someone is out, organizing vacations, managing sick days, and organizing team events such as staff meals.

Compliance: You'll stay up to date on all FSMA and FDA requirements through courses, seminars and independent research to ensure that our factory is perpetually prepared for monthly and spot inspections that those requirements entail. This includes maintaining safety logs, lab tests and ensuring team compliance with relevant rules and regulations.

Production & Inventory Management: You'll ensure all factory supplies are well-stocked and accounted for, maintain budgets to make such purchases, and compare vendors and retailers to control costs.

Shipping and Receiving: You'll be responsible for most everything coming in or going out the door. This ranges from package delivery to large pallets, and includes warehousing items where appropriate in the factory and at our nearby cold storage facility.

Delivery Coordination: You'll coordinate with our delivery service to ensure that all products set for distribution are accounted for, that invoices are tracked, and, if necessary, work with other team members to resolve delivery and personnel issues as they arise.

Facilities Maintenance: You'll make sure everything in the factory from the plumbing to the walk in refrigerators is clean and in top working order; you'll identify and interface with contractors and service people on a regular maintenance schedule, (eg., grease trap, HVAC, Walk-in Refrigerators, Pest control, etc.) while maintaining a roster of additional people to call upon in case of emergency.

Systems: You'll work with other team members to implement and formalize operational production and inventory systems to make sure that things are working like clockwork.
Skills, Experience and Personality
We're a small team where every voice and personality matters. The skills and experience you bring are important. So too the things that make you laugh, cry and feel good inside.
Experience
Minimum five years working in a position similar to the one described above, preferably in a food or beverage production environment, or for a custom product company such as arts and crafts, beauty and fashion or furniture design.
Skills
Experience using inventory management software.

Bonus: Experience implementing IMS solutions

Experience managing people with a firm yet benevolent hand.

Extremely good communicator be it with the spoken or written word.

Solid experience with Google Suite / Microsoft Office skills, especially spreadsheets.

Experience managing relations with contractors and/or service centers.

Familiarity with Project Management Software and communications. We use Asana and Slack.

Ability to jump start projects, operate on them independently and see them through to completion.

Adept problem solver willing to fail fast, recover quickly, take constructive criticism and move on with the task at hand.
Personality and Demeanor
You love living in New York

You have a deep love of craft products and the brands that produce them.

You're a creative thinker equally comfortable working in teams or all alone.

You're not afraid to make mistakes and are open to criticism and feedback when you do.

You work efficiently and with great care.

You are results oriented.

You bring strong outside interests, hobbies and/or skills to your work because someone needs to sing, dance or juggle during our downtime.
Additional Bonus Skills
Second (or third) Languages are a plus. While we operate in English, you'll find many of us communicating in Spanish, Arabic, French, Urdu and Farsi.

Experienced a FSMA inspection with flying colors
Who You'll Work With
You'll work with our entire team and be in constant coordination with the vendors and professionals that service our facility, the delivery service that distributes our products, and the inspectors that come once a month.
You'll report directly to our Chief Operating Officer.