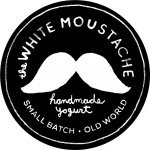 Website The White Moustache
Small Batch. Old World. Handmade
Production Team Member
Salary: $15/Hour with Increase after 6 Months
Position: Full Time Hourly
Location: Red Hook, Brooklyn
The White Moustache, a small batch creator of handmade yogurt, is currently looking for talented and dedicated individuals to join our Production Team.
Roles and Responsibilities
The Production Team works to create and package multiple batches of handmade yogurt each week at our location in Brooklyn, NY. This position will:
Hand strain and prepare yogurt to desired consistency
Pot and fill yogurt jars with yogurt and fruit preserves
Label and package delicate White Moustache yogurt and related beverages
Maintain a clean kitchen with exceptionally high sanitation standards
Ideal candidates have experience working in a kitchen based environment, particularly in bakeries, handling pastry, or other small-batch food environments, as well as food / beverage production lines; however, we are open to train those who would like to learn & have no experience with food.
Qualified candidates
are enthusiastic, motivated and detail-oriented
have the ability to work well as part of a team
are proactive in completing daily tasks without supervision
take pride in creating beautiful, handcrafted products
can lift up to 50 pounds of product in the course of their work day
**You must be legally authorized to work in the US for this position
***You must be fully vaccinated against COVID-19 to apply for this position
Required language: English (spoken and written)
Job Location: Red Hook, Brooklyn
Job Type (Hourly)
This is an hourly position. $15.00 per hour to start with performance based increases after the first 6 months and then annual performance increases/bonuses.
Benefits
Health/Vision/Dental
Paid vacation available after first 6 months
Instructions for Applying
Select the Apply for Job button below. You'll be asked to upload your resume and cover letter. You'll also be able to provide an additional note if you'd like. We look forward to hearing from you!
If you do not have a resume to upload or are on mobile, you can apply with this form instead of the the button below.