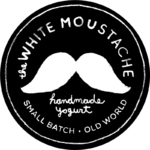 Website The White Moustache
Small Batch. Old World. Handmade
Porter / Dishwasher
Salary: $15/Hour with Increase after 6 Months
Position: Full Time Hourly
Location: Red Hook, Brooklyn
The White Moustache is a small batch creator of handmade yogurt. While most of our process is pretty delicate and requires finesse, we do require someone to maintain the cleanliness of our facility throughout the day.
Roles and Responsibilities
Clean and organize production facility (warehouse, production room, common areas)
Wash dishes used in production room throughout the day
Collect and take out trash at the end of day
Receive deliveries and store ingredients
Operate large mechanical dishwasher
Provide occasional warehouse support for production team
Job Requirements
Must be punctual
Must be clean and considerate
Must be able to take instruction from women
Must be able to lift 50lbs+
Must be able to stand on your feet for long periods of time
Ideal candidates have experience working in kitchen based environments or previous porter experience.
**You must be legally authorized to work in the US for this position
***You must be fully vaccinated against COVID-19 to apply for this position
Job Location: Brooklyn, NY
Job Type (Hourly)
This is an hourly position.  $15.00 per hour to start with performance based increases after the first 6 months and then annual performance increases/bonuses.
Benefits
Health/Vision/Dental
Paid vacation available after first 6 months
Instructions for Applying
Select the Apply for Job button below. You'll be asked to upload your resume and cover letter. You'll also be able to provide an additional note if you'd like. We look forward to hearing from you!
If you do not have a resume to upload or are on mobile, you can apply with this form instead of the the button below.